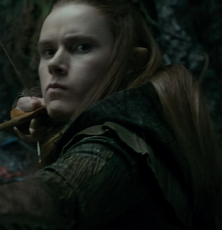 Lethuin
is a minor character in
The Desolation of Smaug
and
The Battle of the Five Armies
. Eli Kent portrayed him the last two part of the film series of
The Hobbit
.
Background
Edit
Lethuin was an elf who served Thranduil, the King of Mirkwood, as one of his hunters.
The Desolation of Smaug
Edit
During a hunt on chasing Giant Spiders of Mirkwood, Lethuin is one of the hunters who help captured the Dwarves, and took their belongings. The king interrogated their king, Thorin Oakenshield.
The Battle of the Five Armies
Edit
Lethuin fought in the Battle of the Five Armies.
Appearances
Edit
The Hobbit: The Desolation of Smaug (First appearance)
The Hobbit: The Battle of the Five Armies